Nowaday, many companies choose the brand popularizing form through events, seminars, campaigns,... to attract community. In order to transmit full message of trade name, the large companies usually order advettising caps for their staff as a simple Public Relations but very effective.
The company's brand popularization through advetising cap is becoming a trend
1. Advertising Cap - The modality for connect to customer
"Advertising Cap" combines with company's uniform in seminars, events, campaigns, .. "Advertising Cap" is usually printed or embroidered company's logo as a brand popularizaing form and bringing company's brand to customer and partner closer
advetising cap Chevrolet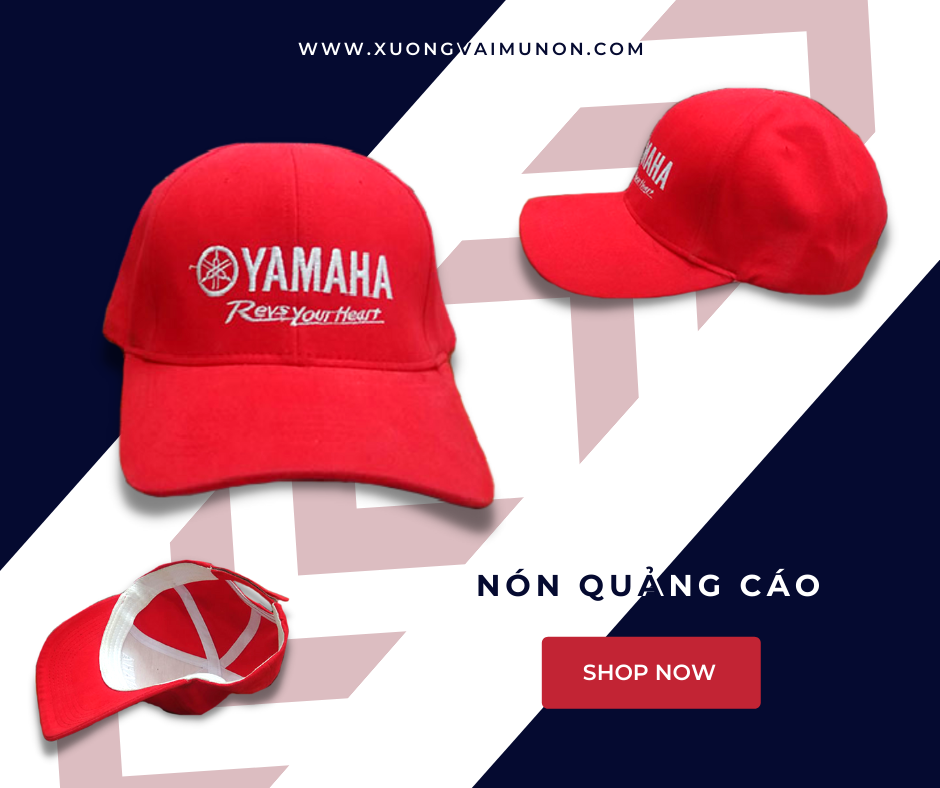 advetising cap Yamaha
The value of nice advertising caps depend on strengthening the simply and effective interaction, communication to customers. The companies use them to connect to customer easier through giving caps with brand's company to them that is really a great idea for companies want to consolidate and expend further potential customers.
The advertising cap with company's brand is more and more popular
The nice cap design with printed logo or trade name also expresses grateful and friendly to custumers. Therefore, advertising cap is used as a present to thank customers that is a connection having a deeper impression about company's image to customer's memory, this is the subtle popuarization trend but effectively.
2. What do you think before designing and processing cap?
On market now, a lot of people like to introduce company image through "advertising cap". However, the problem here is how to make impression in the mass trend like that. A series of advertising cap production companies give incessantly many attractive choices to customers, but how to companies feel secure and have every confidence in design of qualitative cap production companies.
Tram Anh Caps specializes in consultant and design of advertising cap
The first thing when companies decide to order advertising cap for their brand is how to choose the most prestigious, qualitative and effective company. Tram Anh Caps is one of the lead company specializes in consultant, design and production of cheap and nice caps for events, brands, ... according to customer's requirements today.
3. Why is Tram Anh Caps salient?
Tram Anh Caps specializes in processing cap according to requirement
Tram Anh Caps is one of the companies specializes in process and production of advertising cap according to requirement. With the refinement in each design, Tram Anh Caps brings our target and potentiality to customers that is diversified and careful advertising caps in every detail in order to create a perfect advertising cap. The company is invested modern equipments and advanced technologies specializing in designing and producing the advertising cap on the request of diversified and rich customers. In addition, the skilled staff have trained professionally to lead to design products which is the combine of commitment, effort and creativity. Transmission of full branding popularizing message to businesses.
Business's logo is expressed clearly on advertising caps
When customer to Tram Anh Caps will be given expert advice devotedly in order to create a complete design suitable to customer's requests.
Products that Tram Anh Caps have designed and processed are diversified with all customers, from Asean high-grade cap to San simple cap suits to a wide range of customer preferences. Tram Anh's advertising caps are designed with preeminent materials such as non-velvet khaki and smooth khaki that depends on the needs and preferences of customers.
Tram Anh Caps' advertising cap always meets every customer's request
At the same time, the image of company's brands such as Logo, slogan ... is carefully and exquisitely embroidered with advanced and modern embroidery technology in the front and back of the cap to create a special emphasis to deeply engrave company's brand in the mind of consumers.
When come to Tram Anh Caps - the company specializes in design and process of advertising caps on customer's request to enjoy devotedly, qualitative, prestigious and efective consultant service.
Email: tramanhcaps@gmail.com