Art in baseball cap process and production - Fashion style
What is baseball cap?
Baseball cap is a very popular type of cap in many countries over the world. Its name is based on figure because its peak is 15-10 centimeters long to shade the sunshine and rounded as the mussel's tongue. And, it is able to against sunshine, blazzing and fly when go in the opposite wind.
Son Tung singer wears baseball cap
The fasionabe baseball cap trend:
Actually, the description or introduction of baseball cap is superfluous because it is one of the closest and common fashionable appendixs to everyone. Definitely, we have worn baseball cap once. Cause it is too familiar, no one thinks the baseball cap has become fashion trend.
At the outbreak of fashion age, we have to remind to baseball cap. Listening is not particular at all, but you will see boys or girls wear baseball cap to go for walk on the streets if you try going out a while. After the absent period, the baseball cap becomes "best choice" of girls enthused in fashion! The fashionale girls are expert in finding its potentiality out and turning it into a quite up-to-date appendix as well as elevating feminity in dressing.
For a long time, baseball cap has defaulted as an accessory for boys or girls who break the old order, it often mixes with T-shirts, shorts, jeans or sportswear, hip - hop clothing.
Baseball cap is suitable for dynamic hairstyles such as braid and ponytail. Even if you set free your hair on your shoulders, it does not matter. By the way, this accessory can mix with all kinds of clothing. From T-shirts, jeans and sporty-chic suits to dress or skirt that is able to mix with a black baseball cap or even sexy dresses also can wear it.
The fashionable girls wear baseball cap
The trade name popularization through baseball cap
Its role is the same as other advertising caps, popularization for other trade names: company, event, organization, team, tourism,... Every trade name at the top of ahead and back of baseball cap is always embroidered meticulously and exactly, every trade name is a unique and skilful technology with a special color of company 's trade name or logo. Companies give custumers baseball cap as a gratefull present or use it for popularizing trade name in events. This make salient and reminded to customers: "Should you remember and come to us when you need".
Baseball cap - VGA golf
Baseball Cap Process and Productiona
Base cap is processed by many different materials, from high-grade to common, glossy or smooth with other colors but the different models, which make users become special and interested but they also make spcecial styles for themself. The designs of baseball cap also have different patterns and details. Cause the designer understands that no one wants to go out and their clothing is the same as other people.
The peak of cap (cone hat) is shaped by plastic and covered with fabric that is the same color to cap top, and combined to the unique idea of the designer that creates caps having the unique marks, impressive lines in front of and behind the cap and a special color for each cap.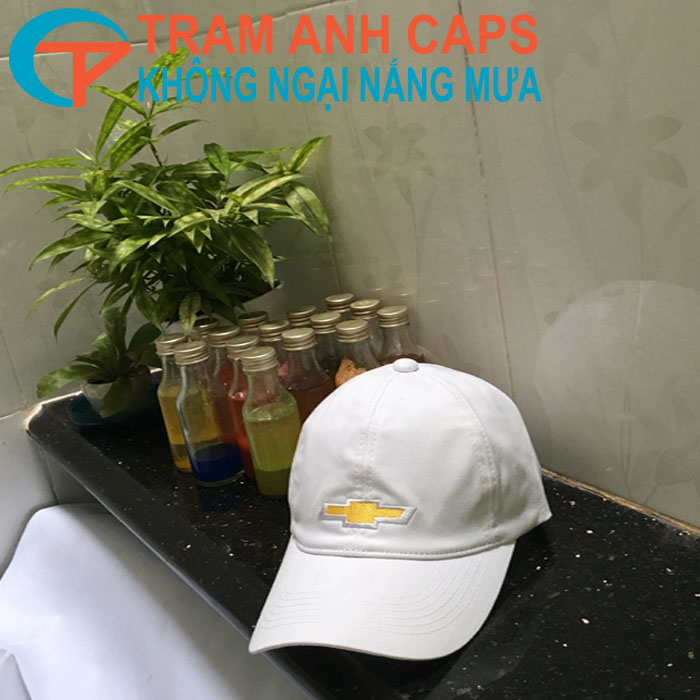 Baseball Cap - Checrolet
Another integral part of cap production is six cap stitches combined together by six reliable sewing machine lines with aesthetics and qualitative materials in order to get a perfect cap so that it can help user feel comfortable in activites or going out in the sun but they do not afraid of sweating, bad smell, wet and itch on scalp.
A baseball cap with full of parts is really a fully worked-out baseball cap. Apart form the cover, Tram Anh Caps also designs another layer in cap top ironed by a thin glue layer to shade cap's outside and the patterns embroidered in front and back of cap.
Tram Anh Caps - Cap Design and Production Company is always a place with professional and devoted staff major in giving expert advice to meet all requirements of customers when ordering or buying products. Along with the embroidery logo and slogan embroidered in the front and back of cap with the technology of modern embroidery machines have made the highlight for the company brand. The baseball cap is qualitative, beautiful, multiform model, colorfast, non-irritating, non tattered and non rusted.
Baseball cap process by machine
Contact: TRAM ANH CAPS CO.,LTD
Address: 66, TTH 29 Street, Tan Thoi Hiep Ward, District 12, Ho Chi Minh City.
Mobile: 0916 381 830 (Mr. Dao)
Email: latranducdao@gmail.com
Website: tramanhcaps.com