THE DESIGN PROCESS OF HIGH-GRADE CAP
1. What should we do before designing cap?
Your comany need to prepare for an outdoor event, charitable activity or advertising campaign about a new product... of which uniform and appendix are integral things. It's easy to find a uniform producer, but it's very hard to find a producer which is prestigous, qualitative and good price.
Your company in the garment industry is finding a cap design and production company.
Your company is an event company and needs a partner specializing in design, production and process.
The cap sewing step
2. Why have Tram Anh Caps become so salient?
Tram Anh Caps is one of the company specializing in designing and producing cap on request. With subtle designs, we bring customer advertising caps not only diversified but also careful in every detail that make perfect advertising caps. Our company is equipped advanced technology on designing and producing advertising cap on every customer's request.
=> Come to Tram Anh Caps, we will help you have great and qualitative designs with competitive price.
The details are cut in advance
3. The receiving and design process of high-grade cap:
The design process of Tram Anh Caps is very accurate including six steps. The process will send you the sample as soon as posible to examine .
Step 1: Tram Anh Caps receives customer's ideas and needs about product. They involve type (baseball cap, broad-brimmed hat, adversiting cap, cap for golf course or travel,...), color (the material of dye), materials (kind of fabric, fabric, other secondary materials), figures (logo sample, product lay-out ).
Designing cap for JPS ltd.
Step 2: Tram Anh Caps understands customer's ideas and gives expert advice to them in details to have a product not only satisfies customer but also good qualitay and price. With more 20 experience-years, we have enough exprience to give expert advice to customer so as to make a product with right use as well as fashionable and comfortable when wearing it.
High grade material - HSBC baseball cap
Step 3: In order to have a product with wonderful excellent design, strong material and reasonable price that is a very difficult and importanr problem. Tram Anh Caps will help you choose suitable materials and textile materials and accessories to have a product with right use and wonderful design.
Step 4: Tram Anh Caps help you make sample through the following steps:
+ Cut fabric on stereotype design.
+ Embroider image, logo and letter on product
+ Handicraft sewing scrupulously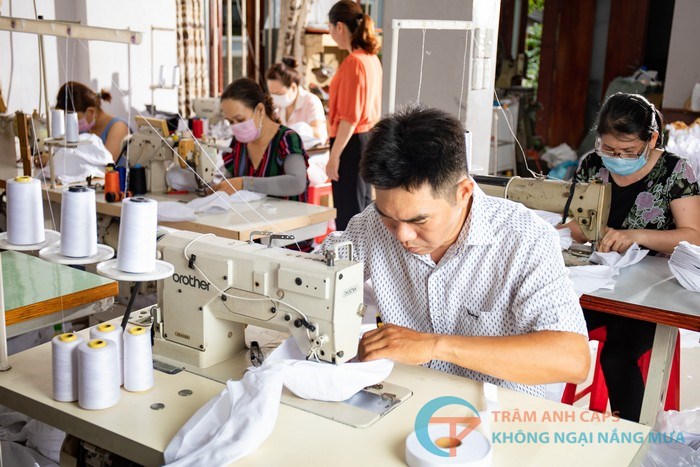 + Complete product
All steps above are carried out manually to have a product that also expresses Tram Anh Caps' determination in creating the best products for customer.
4. What have Tram Anh Caps brought to you ?
After finishing design, Tram Anh Caps will send it to customer to carry out the continued steps and cooperation. Tram Anh Caps will design free of charge for you when you order. If you are a new customer you are not afraid of design fee. The whole design fee for a product is from 500.000 - 3.000.000 VND and that fee will be returned when you choose Tram Anh Caps as cap producer.
Product of Tramanhcaps
Come to Tram Anh Caps - cap producer on customer's request to enjoy service that is minutely, qualitative, prestigous and effective.
Please to cooperate with you. Respect!