THE HAT FACTORY IN WHICH YOU CAN GET AFFORDABLE AND WELL-QUALIFIED HATS
Tram Anh Caps Hat Factory is one of the few departments that has the ability to meet the whole demands of customers of hats. We bring you entirely satisfation from the designing step to the process of producing either contract procedure or invoice. Our prestige, profession as well as the perfection for the quality of products are recognized and the rate of delivery is always on time.
- Have you been finding a hat factory on request that has the ability to produce designs from drawings to reality products?
- Have you been finding a original hat factory with an affordable price without a distributed deparment?
- Do you get into much trouble and waste time when working with an unprofessional productive department?
Our hat factory has met a lot of customers that get involved in above situations, they feel unsatisfied for the product, delivering late, reducing quality after using one month etc.
Supposing products could not be received by you on your event or you have received the product already yet it contains a number of unacceptable errors. Especially on outdoor events as golf course opening or going out for a picnic, the weather is very hot yet the product you left a deposit was not delivered on time as you want.
Golf Cap - Source Capfabric.vn
TramanhCaps is professional factory in producing hats, we help you totally convince of all the troubles. Our products have the prestige in the market, gain faith in collaboration and get high estimate from customers.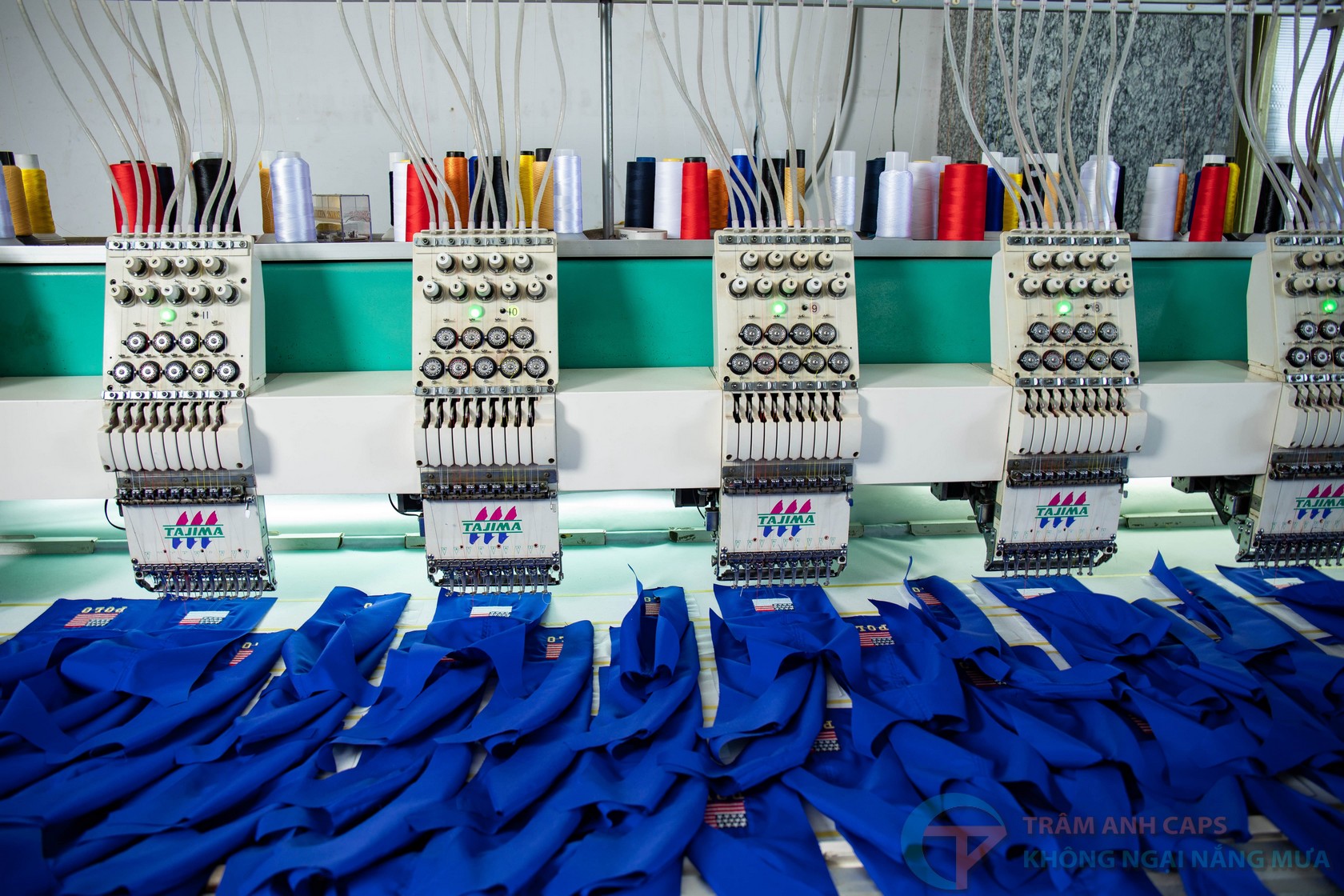 Tram Anh Caps Factory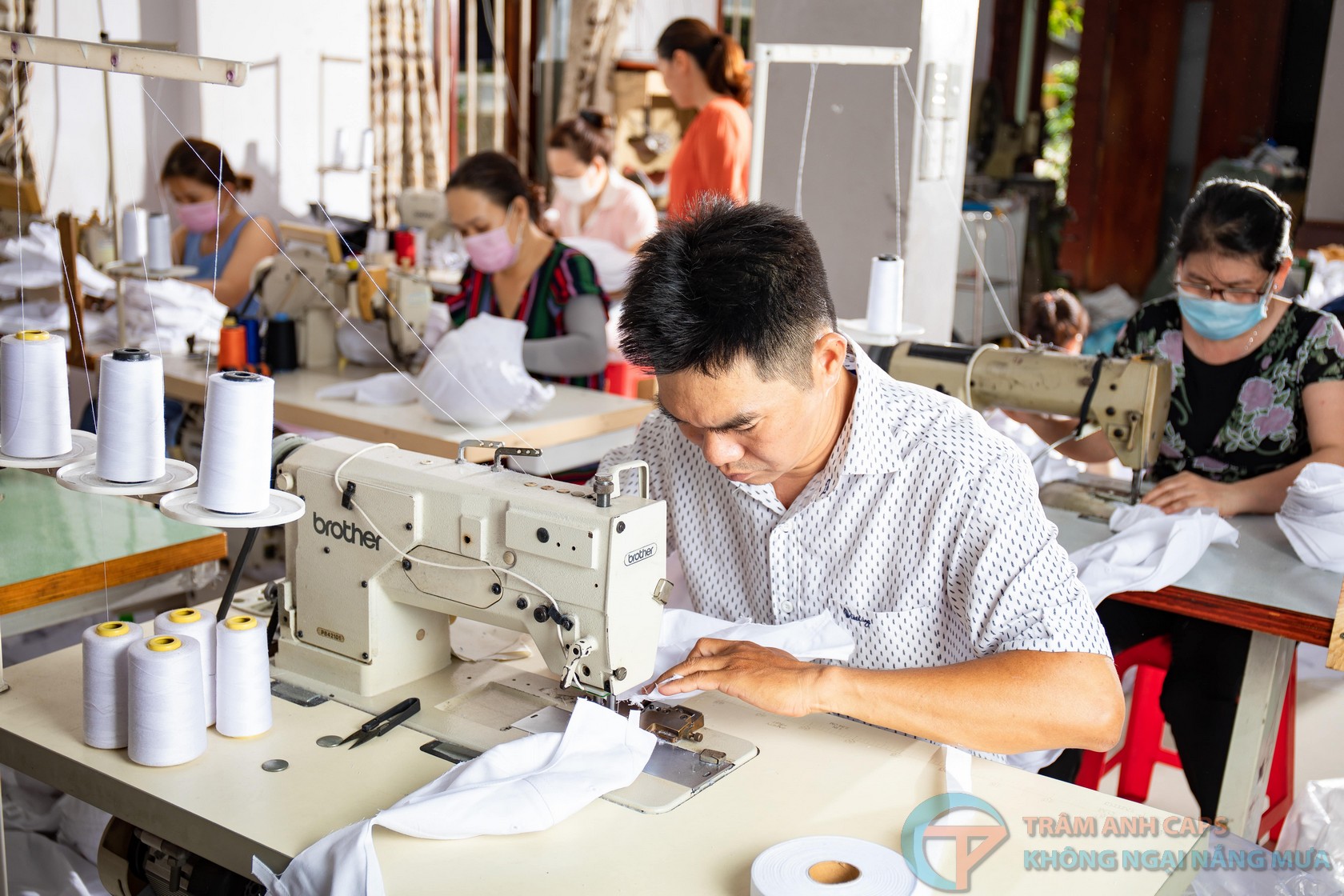 Tram Anh Caps Factory
The working process of TramAnh Caps
Hat production is a complicated process including several stages
- Firstly, Xưởng mũ TramanhCaps.com Factory work with clients to deal with all demands and ideas of new products. These ideas begin with the general as the style of hats (caps, wide-brimmed hats, golf hats), following that we will find out the material used for products ( jean or khaki fabric). At the end of this step, products will be colored and printed logos onto them as well as accessories .
- Secondly, TramanhCaps.com catchs the ideas of clients and offers advice in order to get products that are right on demand, affordable prices and best quality as possible. With all the self-assurance of 20 years experience, we will pass on some useful advice in orther that you can get a hat which is right on its function, in fashion and the important thing is comfort when wearing it.
Tram Anh Caps Factory
- Thirdly, making a product which has well design, durable material and affordable price is the crucial and difficult issue. Therefore, coming to TramanhCaps Factory, you will get a hat made from your choices of every material of fabrics, threads and accessories so that your product is right on the purpose of use and its design is guaranteed the most.
- In the next step TramanhCaps.com helps you make products following this order:
+ Cutting fabrics as its stereotype design.
+ Embroidering all pictures, logos, letters onto products.
+ The craft of sewing is meticulous.
+ Perfecting products.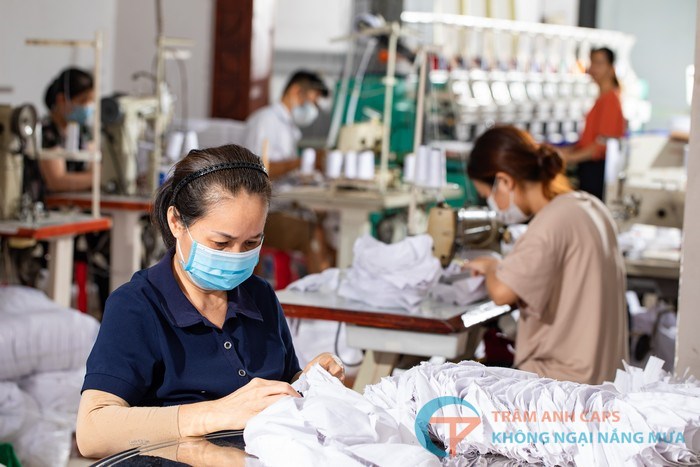 - Later, TramanhCaps.com and clients will sign contract about volumes, prices and promotions, warranty attached in order to guaranteed that production meets the deadline and quality.
- Finally, we conduct production according to commitment and maintain contact with our clients until products are delivered perfectly.
Do not worry about prices!
If you are wondering about prices, please take a weight off your mind. You are at the original-low-price factory. Our prices are always 5% lower comparing with other non-specialized department with the same types, sizes and materials. We deal with you in person, this helps the price reduce to real price most and working effect is fastest.
Enjoying prestige in the hat market
We have made several hats for well known faces. With more than 10 years experience in producing hats, we are pleased to be a factory in which provides hats to several world-famous partners such as Coca-Cola, Tan Son Nhat Airport, Saigon Tourist etc. Yet should you are a group or small business, we are respect you all the time and ready to supply you hats with the minimum quantity is 100 pieces.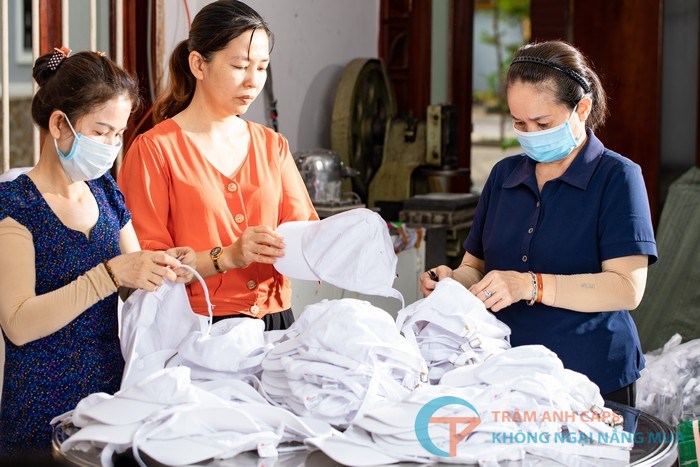 Product of Trâm Anh Cap
Giving the pattern of design
Should you choose TramAnh Caps to be your hat factory, the whole expenses of designing will be directly deducted from contract. Perfecting a product is extremely quick, just within 5 days you will receive products as you want.
The sheerer quantity is, the more attractive price is
The chain of production of a factory that making hats continuously for a long time will significantly reduce the productive expenses. We wish to share our customers the benefit is that the more quantity is more massive, you will get an "unbelievable price" per a product. Let's make a deposit to keep your goods as much and soon as possible!
Product of Trâm Anh Cap
Absolute commitment
- The warranty covers all the errors of hats for a month.
- The delivery is always on time.
- The quantity is odd comparing with ordered one.
- For the mutual benefits, we commit to do exactly and beyond what is written in contract.
Do not waste your time anymore, for the final word Tramanh Caps would like to give you an extremely sufficient incentive: deducting 5% of the total order for 10 customers who connect us soonest in July 2018.
Mobile: 0916 381 830 | Email: tramanhcaps@gmail.com
Wish you a nice, peaceful and joyful day!