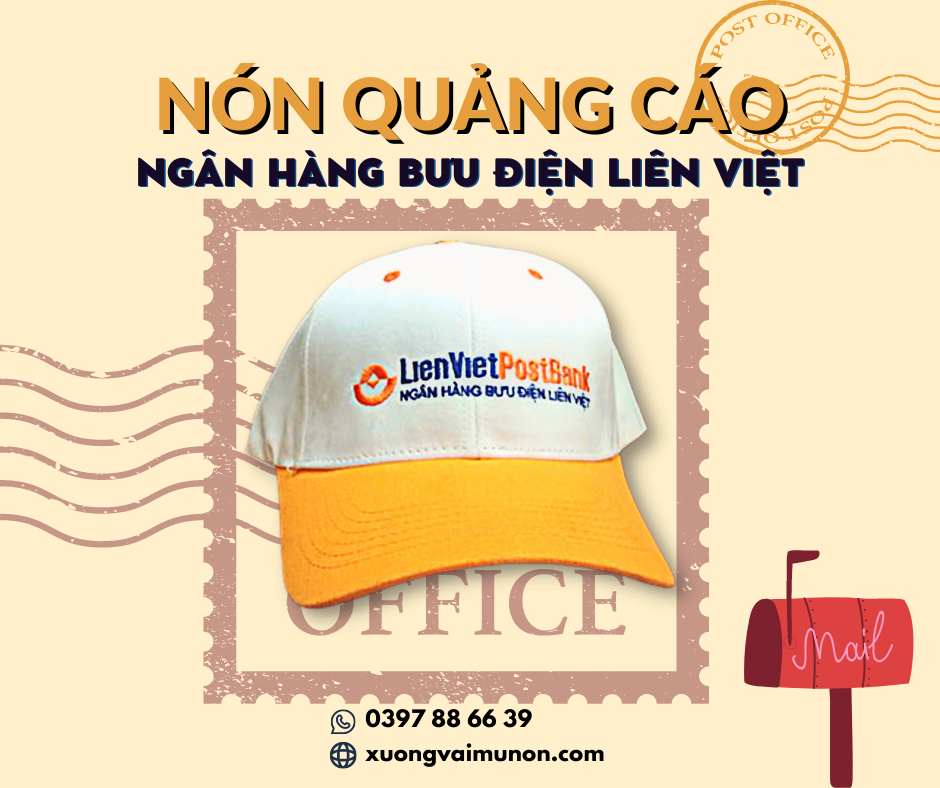 Advantages:
The most remarkable thing is that Tram Anh Caps can provide you with great-quality products within reasonable prices, which other companies cannot do.
Why? Since Tram Anh Caps is a company specializing in sewing and weaving advertising caps. Futhermore, the caps are always designed methodically by our staff and produced by modern equipments imported from Taiwan, Thailand,... Many large companies, organizations, and schools believe in using them.
LienViet Postbank advertising caps are designed with 2 main colors (yellow over white background). Based on the main color of the bank's logo, the designers of the company mixed the colors in a harmonious way, which makes them look more eye-catching.
The logo of the cap is embroidered 2D with Thailand technology, bringing high detail, accurate colour and desired durability. With this technology, Tram Anh Caps is confident to meet customers's hardest requirements.
Material: khaki fabric - 2 layers woven at Tram Anh caps' factory by modern equipments imported from Taiwan for high durability, firmly shape, higher moisture absorption, together with 6 airy holes which can comfort the wearer.
Peak is made of standard plastic having natural flexure. It is dyed orange and added 5 sewn lines, these help the cap look more sporty, dynamic and increase durability.
If you are a loyal fan of Vietnam's volleyball, you will definitely know the members of Lien Viet Postbank team.
And the caps designed by Tramanhcaps.com appeared all over the grandstand to encourage spirit of the player.
Outstanding colours, durable material, comfortable design. LietViet Postbank advertising cap has traditional round body, fine seam and light weight (less than 100g), which brings a feeling of comfort, light unlike other products in the market.
Locking line is woven by the same material as the body and fixed by metal lock which is stainless.
CONTACT
Tram Anh Caps Company specializes in designing and processing cap for advertising, event and travel as request; we can produce advertising caps bearing brands for staff on competitions or being combined with uniform in events and golf activities.
M: 0916 381 830 | E: tramanhcaps@gmail.com
For more information about the products of Tram Anh Caps - speciallize in consulting and designing kinds of cap for advertising, name brand, event, staff...
Or contact directly at: Tram Anh Caps Ltd, Co., - 66 TTH29 Street, Quarter 2, Tan Thoi Hiep Ward, District 12, Ho Chi Minh City.
Mobile: 0916 381 830
Mẫu nón: Nón kết thể thao phối màu
Vải: kaki 100% coton
Mẫu thêu: 2D
Lưỡi trai may trang trí và phối màu
Nút: sắt
Khóa: tăng giảm bằng vải chính, khoá đồng