In recent years, the cap market has expanded with animation. Every company supplies or exports product that always create new deisgns in order to satisfy both customer's fashion needs and product quality. In the top of companies specialize in cap production and process on request is a partner with large customers that is Tram Anh Caps. Customer always feels satisfied with Tram Anh Caps'designs.There are three tipycal kinds of baseball cap for this designs: high-grade, mid-grade and normal.
High-grade baseball cap
Tram Anh Caps's high-grade cap is made of best materials. These materials are selected carefully from thread, team, fabric, plastic peak, lock, small holds on cap,..
Thread is selected from types with clear source and high quality. Therefore, the thread is suddendly cut during using cap. About team, its design depends on customer's request and Tram Anh Caps will ensure team's quality.
Fabric is the key factor of cap's endurance. For high-grade baseball cap, fabric is khaki 100% cotton. By flexible fabric and fine sewing, users will feel comfortabe though they have to wear it in a long time.
Cap is shaped steadily by plastic peak made of recycled plastic which is resistant well and not to be bended. The lock isn made of pure brass in order to enhance product's quality (do not be rusted by rain-water and safe for user).
The cap belt is one of the important parts make customer choose Tram Anh Caps's high-grade cap. The cap-belt (a layer is buffered inside cap) which is designed by soft and absorbent materials very well. Therefore, sweat or water will absorb on scalp again during wearing that helps user feel comfortable.
Moreover, customer can choose many different designs about small holds (its shape likes an arca) and patterns on cap.
Mid-grade baseball cap
With Tram Anh Caps's mid-grade baseball cap, fabric is khaki 65% and 35%. However, products still ensure fine sewing and qualiative materials.
In specific, the layer for bufering is plastic that is elastic very well. The cord inside cap is made of special fabric which absords sweat well, especially do not have a sore head when wearing it for a long time. In addition, the iron lock behind cap can adjust size to conformity with user easily. From design to quality of every parts that help mid-grade cap become strong in time and more fashionable.
Common baseball cap
This type is selected by many customer, especially small enterprises. With reducing cost purpose but high quality, Tram Anh Caps brings product suitable for small and medium enterprises' demand and finance into the world.
Selected matrials for production are suitable for cap's uses and cusomer's needs so as to reduce expenses. Customers usually like khaki 35/65. Although its cost is cheap, threads are sewn carefully.
The lock of cap is designed so that it can stick that is also a way in order to save expenses and adjust hat-brim's size easily. This cap is so suitable for sport activities, camping and short-term traveling.
In addition, the cap-belt is so supple and absorbent that make user feel comfortable when it is sunny or rainy. Hat brim is large that help user avoid sun or rain coming in face when they go out.
Especially, the design of hat brim is large and slight (made of bulk materiail) that helps cap steady when wearing it for along time.
For just this type, Tram Anh Caps has designed on the powerful style so that user could be more manly. To the girl, it make them become womanliness, gentel but break the old order.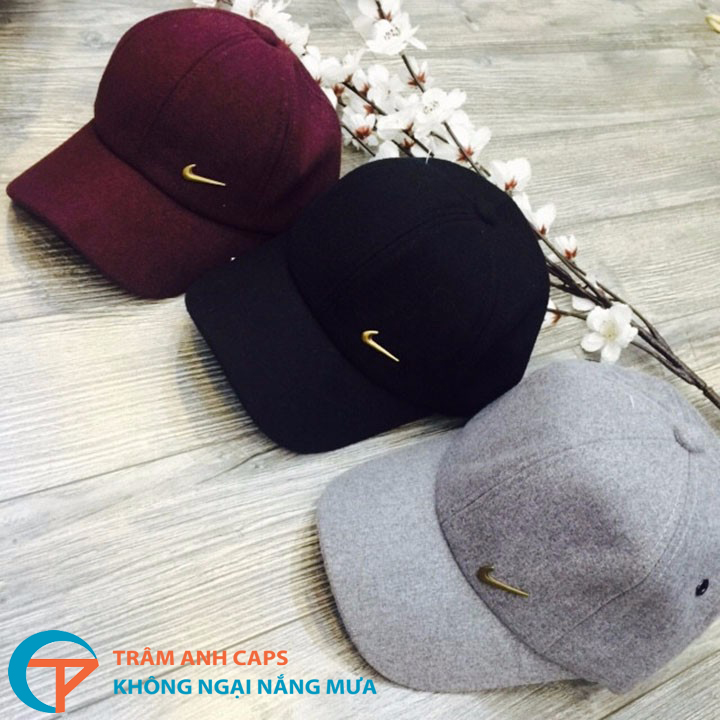 The above types are the three popular tpyes of baseball cap processed by Tram Anh Caps. That is the strengh of cap production and process on request so we always have creative design on this types. And, Tram Anh Caps's products are loved by many customers for a long time.
Thus, it is not by chance that cap factory - Tram Anh Caps is mentioned in District 12 (Ho Chi Minh City) as well as cap production area by may people.