THE DESIGNS ARE SUITABLE FOR SPECIAL HOLIDAYS EVERY YEAR
Giving cap on holidays now is more and more popular
Baseball cap is the individual accessory that is variated from broad - brimmed hat. The baseball caps still keep the part holded close to head and be more individual with an part ahead in order to shade sunshine as well as protect user's face. That one is called peak that make it different from other caps. Beside that, the design's baseball cap has a clock on the back of cap that can adjust size so as to fix user's head.
The baseball cap now is used quite popular especially he young for dynamic and multifunctional.It is so user-friendly in outdoor events and sport activities for design's cap holding close to head in order to avoid flying it out.
Baseball cap now is used quite popular especially he young for dynamic and multifunctional
On the trend of using advertisng cap printed logo or brand as a present for customer on special holidays yearly. The baseball cap might be the first choice. Especially, the tiny, dynamic and individual baseball cap is suitable for the comprehension of company's staff when they take part in teamwork or others. That way is counted as one of the cheap PR campaign but effectively because it popularizes brand's company extensively and creates social effects attractively.
Baseball cap is one of the popular present on holidays
Hiphop cap (or Snapback) expresses user's youth, dynamic and style. Snapback was used a lot in showbiz in the past but it now becomes common and love by many people, especially the youth. Hiphop cap is really one of the variants of baseball cap in the 1980s. Its figure rather similar to baseball cap but the peak is bigger and rounder.
In the modern life, the youth like new and dyanmic styles and they are very interested in the models of hiphop cap. Therefore, all enterprises lead to potential object - the youth who are dynamic and individual so they usually choose hiphop cap - snapback as a best present.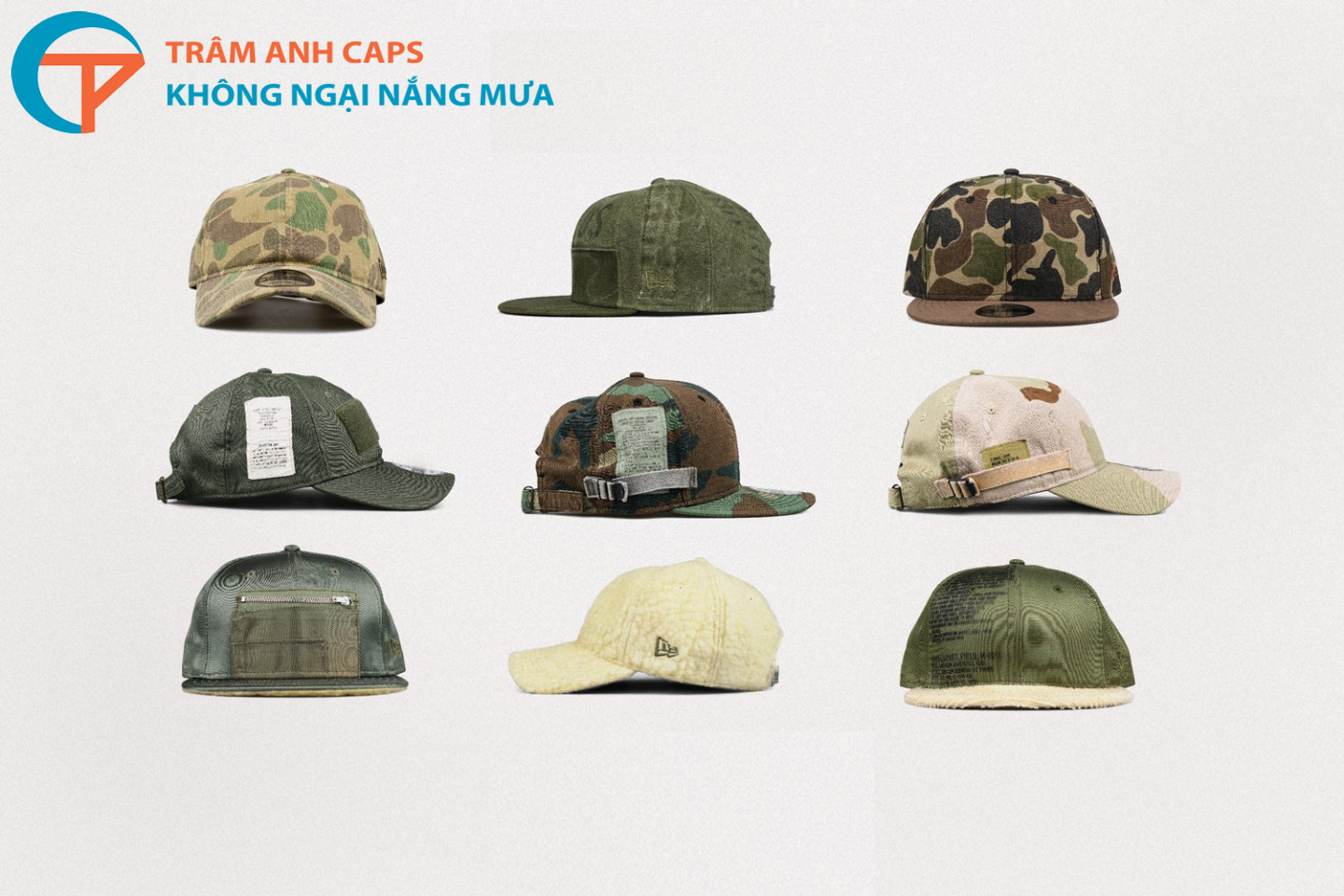 The youth with dynamic style are very interested in the models of hiphop cap
In order to help enterprises have meaning presents to be grateful customer and staff on Christmas, Western New Year and Lunar New Year, Tram Anh Caps makes a lot of unique and fashionable designs' hiphop cap. Using a various kinds of fabric specialize in sewing cap especially khaki type 1, khaki type 2, velvet cotton khaki, cotton 100%, khaki 65/35 ... in order to create hiphop caps with a lot of models and colour for customer's selection.
Hihop cap is a present suitable for the youth
Half head cap and no top cap are usually used in sports. These caps help user show luxurious and youthful especially break the old rule. Furthermore, they are fairly fashionable and user-friendly. The strength of no top cap is comfortable and easy to drain sweat out, because there are no top, user will not feel wet and hot especially who usually exercises or plays sports, ...
The enterprises opertate in the sport fields, such as: golf course, resort,... they can order half head cap as a present for customer and staff. Half head cap and no top cap are printed or embroidered enterprise's logo or brand liked in acitvities, events, ... on Tet, Christmas.
At the end of the year, many enterprises usually organize a company trip for staff in order to encourage mind and thank for contribution. On the occasion of this trip, enterprises order half head cap as a present for their staff so that they can wear it on teamwork together. This comprehension will form social effect and pervade enterprise's logo well. This is also a brand popularizing way when enterptise travels to somewhere.
Broad-brimmed hat - Bucket hat
Besides snapback and half head cap are individual, the youth now like broad-brimmed hat and bucket hat. Their strength is big and round hat brim that can shade from the sun and rain more effective as well as reduce the sun and dust come in face during going out.
Broad brimmed hat is one of the brilliant candidates as a present for customer and staff. Although its model is a bit traditional, its size is biger than the others so that it can be printed or embroidered much pattern. So, many enterprises still confidence in them as a present on Tet holiday.
Bucket hat can shade from the sun and rain suitable for giving gift
Depending on demand, object and staff, enterprise can choose a suitable model as a present on Christmas, Western New Year and Lunar New Year. But finding a prestigious company major in process and design cap in order to order new, unique and nice models.
Tram Anh Caps is one of the few companies major in design and process cap in request as well as company top in Ho Chi Minh City.
Contact Tram Anh Caps to get more consultant and support in ordering so as to give partner, customer and staff.
Address: Tram Anh Caps Co.,Ltd - 66 TTH29 Street, Quater 2, Tan Thoi Hiep Ward, District 12, Ho Chi Minh City.
Email: munontramanh@gmail.com
Mobile: 0916 381 830 - 0169 788 6639